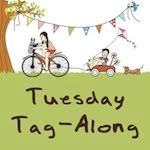 Yeah for Tuesday blog hops! I love my readers and hope to find some new ones today. Take a look around, I hope you find a great deal. Also, enter my giveaways too:
BooB*TooB Nursing Cover
and
A Handmade Baby Gift Set (Burp Cloths, Snack Bags, Paci Clips)
. I'd love to follow your blog too, so be sure to leave you link!